You want every part of your marine pumps to stay in good working order, and applying the proper coating is a great way to do so. Marine coating pumps make it easy to apply a protective coating or paint to your vessel, ship, or boat.
At QuikSpray, you will find a variety of the top marine coating pumps. These pumps are designed to get the job done quickly and efficiently, giving your boat or marine vessel the protective coating it needs.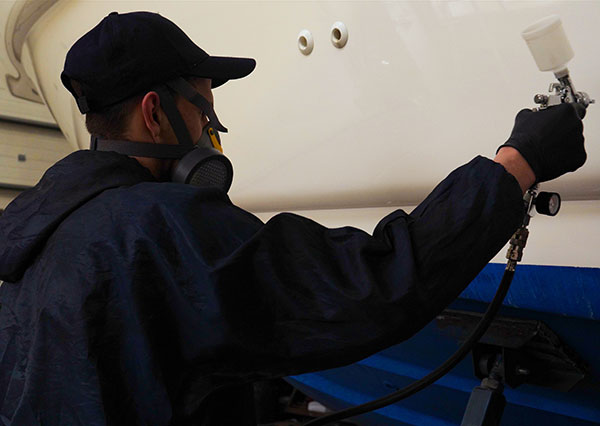 Understanding Marine Coating Pumps
While only the word "coating" is in the name, you can also use marine coating pumps to apply paint. Both paint and coatings improve the appearance of your vessel and help protect it. Without the proper coating, it is common for marine vessels to corrode. This is a natural result of their contact with the water. But with the coating or paint in place, the risk decreases. A pump is a crucial part of applying the protective coating, as it mixes epoxy with other materials that are part of your coating.
Benefits of Marine Coating Pumps
Here are just some of the reasons that everyone should use a marine coating pump on their vessel.
Efficient and Effective Application
Using a marine coating pump is the most efficient way to apply the coating to your boat or vessel. The pumps are also great at applying that coating evenly, so every part of the vessel or structure you apply it to gets an even protective coating. It also improves the application efficiency.
As mentioned, the biggest reason to apply marine coatings is their ability to protect your vessel or any other material that you use on the water. By creating a protective layer on your vessel, you reduce the risk of corrosion. That's important, as corrosion can worsen to the point that it negatively affects the structural integrity of your boat. While this would be an extreme case, any corrosion can lead to the need for repairs.
Think of applying a protective coating as a way to extend the life of your boat. In the short term, it will save you money on repairs. In the long term, it will mean you can wait longer to replace the vessel.
In addition to protecting the vessel, applying a coating or layer of paint improves the appearance of the vessel. This can help you give off the professional impression that you aim for. It can also improve the value of your vessel.
Quikspray Custom Carrousel Pumps
These pumps are an excellent option if you need a coating pump with specific measurements or other details. It is also a good choice if the other options in our inventory aren't quite right for your needs.
We can configure our Custom Carrousel Pumps vertically or horizontally, with your choice of 16-inch pneumatic tires or with casters. These pumps are fully customized to meet your output and space requirements. If you need any additional features, let us know.
We've found that a 2-inch Carrousel Pump is the right size for most applications. So, if this is what you need, you won't have to special order a custom one unless you prefer to do so. This classic Quikspray pump has a high production and is easy to clean in minutes with minimal water use. The Carrousel Pump is designed to be low-maintenance and easy to operate. Even unskilled personnel can use it with ease.
The 200 Grout Plant is excellent for marine coating. It is fully hydraulic and works well in a single location. If you need to move it, you can easily disassemble various parts, fitting it through even a three-foot door.
This pump works via peristaltic pumping action, which pushes the materials. It can even run dry without damaging itself, thanks to our careful engineering. It can also be used by a single operator, letting you apply the marine coatings yourself.
Get More Information From Quikspray
Our products have been shipped to more than 60 countries, making us among the few manufacturers to receive global acclaim. To learn more about our marine coating pumps, contact our QuikSpray team today.