You can find a vast array of epoxy pumps at Quikspray, ensuring that at least one will be a good fit for your job. Using an epoxy pump makes it easy to mix and spread epoxy exactly where you want it. Take a closer look at the Quikspray pumps that can use epoxy.
Quikspray Pumps for Epoxy
The Quikspray Carrousel Pump is perhaps the best-known pump from Quikspray. It uses the squeeze or peristaltic principle and features rollers that rotate against a rubber tube. This flattens the tube against the U-shaped pressure wall. Of all the components in this pump, only the soft rubber tube comes in contact with epoxy material. This component is affordable and very easy to replace as necessary.
The 2" Carrousel Pump is a variation of the classic Quikspray Carrousel Pump. It also uses a peristaltic pumping system for efficiency. It features specially-designed couplings that let you pump materials with or without aggregates or reinforcing fibers. You can choose from hydraulic or electric power and various frames.
This epoxy pump combines the features of the 2" Carrousel Pump and the U-Blend Mixer. It is fully hydraulic. You can easily and quickly disassemble the pump to fit through a standard doorway before reassembling it. This pump relies on peristaltic pumping action and can run dry all day long without any damage. You can also configure it with a spray gun.
For this pump, you have your choice of electric or hydraulic power, a spray or pump grout plant option, and skid-mounted wheels or large tires.
The U-Blend Mixer was created to give you a lower dumping height. It works with a variety of containers and reduces operator fatigue when working with epoxy or other materials. This epoxy mixer can run on 110 or 220 VAC power, hydraulic power, or pneumatic power.
The Quikstir 5-Gallon Bucket Mixer is a simple yet effective solution. It is built to be rugged, so it functions for a long time without any issues. This makes the mixer incredibly reliable. You can choose from a K blade or an L blade for this mixer.
The QuikBatch Mixer works well for mixing either aggregated or neat epoxy coatings. It also works with dry mixes, inks, paints, and chemicals, along with other applications. Choose from 110 or 220 VAC power. You can also choose from several sizes, with a capacity of 5, 6, 7.5, 10, or 15.5 gallons.
For this pump, you have your choice of electric or hydraulic power, a spray or pump grout plant option, and skid-mounted wheels or large tires.
Other Equipment to Use with Epoxy Pumps
Even if your interest is primarily in epoxy pumps, there are a few other pieces of equipment you should consider if you are working with epoxy. These are broadcasters that easily apply materials onto your unset epoxy floors.
You can use the Quikspray Industrial AG-Blower to broadcast quartz aggregate onto your unset epoxy floors. This blower can handle fillers, glass, sand, and non-skid granules in addition to quartz aggregate. It broadcasts the materials at 30 to 45 pounds per minute. In addition to broadcasting onto unset epoxy, you can also use it to broadcast onto unset polyester basecoats or cement.
Quikspray designed this blower to feature special wheels that let you move it over an unset basecoat without accidentally leaving tracks. That being said, you won't have to move it often, as it covers 2,500 square feet without having to be moved. Choose from 110 VAC or 220 VAC power.
You can use the Quikspray Commercial Chip Sprayer to broadcast vinyl chips onto an unset epoxy floor. This chip sprayer has a 2.5-HP blower featuring 150/196 cfm of air. The velocity is up to 33,570 fpm. The sprayer uses a positive, variable-speed auger feed to transfer and meter the chip. A separate gear motor powers this auger feed. Both of the motors run on 110 VAC. Overall, this blower quickly applies chips to wet resin or epoxy, letting you work efficiently.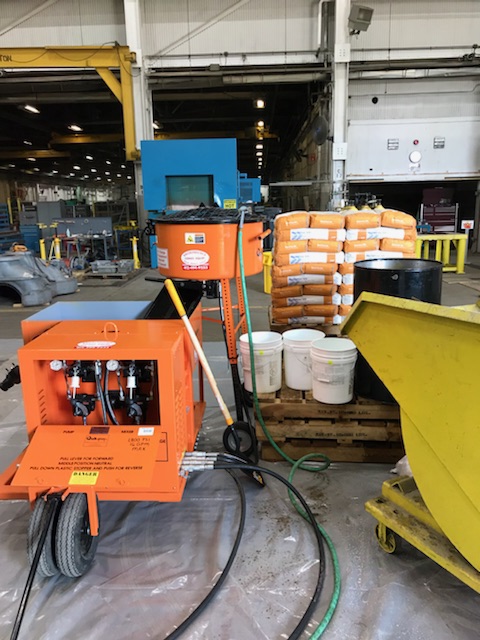 Quikspray Can Help You Choose Your Epoxy Pump
If you still aren't sure which of the epoxy pumps is best for your particular application, then talk to our Quikspray team. Our familiarity with the pumps themselves and their numerous applications means that we are perfectly positioned to recommend the appropriate pump for your needs.
Just describe your planned use and your budget to us, and we will narrow down your choices to the best fit. From there, we can help you decide what configuration is best, such as selecting the power.