Description
What is the Quikspray® Carrousel® Pump?
The Quikspray® Carrousel® Pump is the application of the peristaltic or squeeze principle, similar to the human digestive system. Rollers rotate against the rubber tube, flattening it against the U-shaped pressure wall of the Quikspray® Carrousel® Pump. This soft rubber tube, the heart of the system, is the only part that contacts pumped material. It is inexpensive and easily replaced for damage or wear.
This entire line of Quikspray® Carrousel® Pumps are designed to pump and spray materials with or without aggregates and/or reinforcement fibers.
Advantages to the Quikspray® Carrousel® Pump
Available in 30+ models 1", 1¼" and 1½" Internal Diameter
Excellent for fireproofing, stucco, shotcrete, artificial scapes (rocks and waterfalls), EIFS, veneer plasters, cement/plaster interior and exterior coatings, acoustics, glass fiber surface bonding cements, waterproofing, GFRC, GFRP, grouts, aggregated & non-aggregated epoxies and many more.
Worldwide Acceptance
Simple, Versatile & Dependable
No internal parts contact material
No/Low Maintenance
Ease of Operation & Cleaning
Specially designed Quik-Flo couplings and reduced fittings to help lower pumping pressures and problems.
Most skilled and unskilled personnel find the Carrousel® Pump a dream to operate.
Can run dry indefinitely without damage, unlike the progressive cavity pumps or rotor/stator pumps.
Parabolic hoppers are designed for easy flow of materials, and have no corners to clog.
Specially designed 8-jet venturi spray nozzle for fiber filled coatings eliminates clogging.
Test reports available upon request.
High Torque Motors
Powerful constant torque electric, pneumatic or hydraulic motors are available. These powerheads allow for variable speed and application rates.Other power options available upon request. The 1″ through 1.50″ is available in 1HP 110/220VAC and 3HP 220 VAC.
Pump Requirements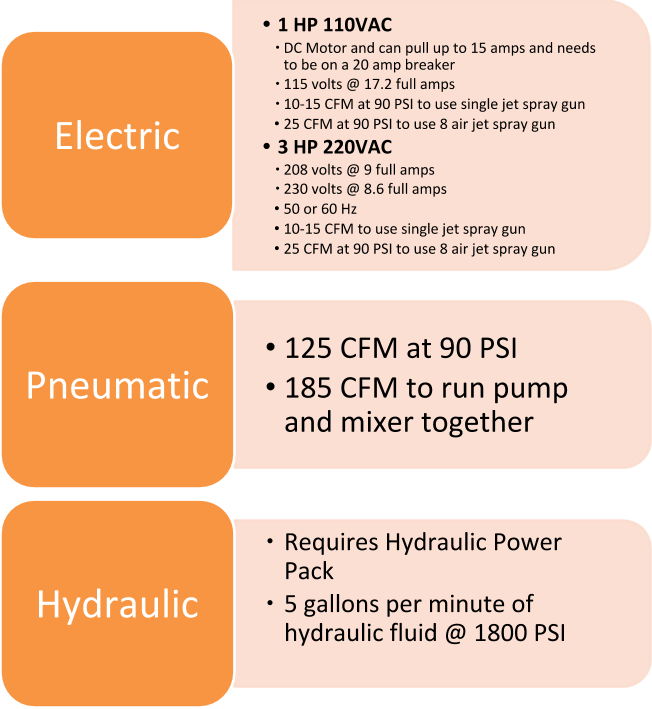 How to Clean a Quikspray® Carrousel® Pump
Cleaning is simple. A cellulose sponge is inserted in the bottom of the hopper, and pulled through by the pumping action with clean water.
Product Demos
Dayton® Superior HD 50 Horizontal Repair Grout: https://youtu.be/KaDBRAWO2bU
Dayton Superior Civil/Structural VO: https://youtu.be/KlxWsHHXXB8
Simpson Strong-Tie® CSS-CM: https://youtu.be/uklv9GrWDac
Simpson Strong-Tie® FX-70-6MP: https://youtu.be/1d_zR-ro1kM
Simpson Strong-Tie® FX-225: https://youtu.be/s1mrVowHnA0
USG® Structo-Lite® Basecoat: https://youtu.be/K94QCRmTab0
Xypex® Concentrate-Crystalline Waterproofing:
SpecChem® SpecPoxy Grout: https://youtu.be/wQ3MESK8-oc
SpecChem® Precision Grout HS: https://youtu.be/G13aFUJaOGI
Sikacrete® 08 SCC: https://youtu.be/dTBNC_oNrME
SikaRepair® SHB: https://youtu.be/7c_bd41xVSg
Sikadur® 35: https://youtu.be/Y_-oRIDMUnc
SikaRepair® 222: https://youtu.be/9wKcvDEZeKQ
Sika® MonoTop® 623: https://youtu.be/XkGNhxzR4EQ
SikaCem® 226 CI: https://youtu.be/rjqXApDFPAU
Chockfast® Red: https://youtu.be/X5YcnRSGdXE
Euclid EucoRepair® SCC: https://youtu.be/TFgKtnFqH_M
Euclid Eucocrete: https://youtu.be/n7DI-V93WD4
Euclid Tammscoat: https://youtu.be/fv9Yukyfe9M
WR Meadows® 1428 HP: https://youtu.be/N6aAWMPwv3M
WR Meadows® 588 10K: https://youtu.be/nJKf_KMVSV4
WR Meadows® Meadow-Crete® GPS: https://youtu.be/sR597xPn3tU
WR Meadows® Meadow-Crete® FNP Grout: https://youtu.be/vvlzCtrHYoQ
Ruco® by Southern Walls: https://youtu.be/42UcCxF701A
Target® Portland Grout: https://youtu.be/Nk_XRJvXQRI
AcruStone® Acrus Stonecoat: https://youtu.be/ZzOVPMF6Qc4
BASF Masterflow® 1206: https://youtu.be/iCqt0rD4wk0
BASF MasterSeal® 581: https://youtu.be/_OoXBergqCc
BASF MasterFlow® 678: https://youtu.be/sp1iYx8XMPE
BASF MasterFlow® 4316: https://youtu.be/OLfkeZCKmNM
BASF Masterflow® 1206: https://youtu.be/iCqt0rD4wk0
BASF MasterFlow® 4316 Extended: https://youtu.be/wtLu7_qeVt0
BASF MasterFlow® 928: https://youtu.be/jQJohb8rqBU
BASF MasterEmaco® S 488 CI: https://youtu.be/bTTUtIXMQW4
BASF MasterEmaco® S 440 CI: https://youtu.be/w5vPqbJRZTY
BASF MasterEmaco® S 440: https://youtu.be/Gxg_aidHF9Q
BASF MasterEmaco S 66 CI:
BASF MasterFlow® 648: https://youtu.be/yGLgWAU1Iz8
Asona Plaster Base & Finish System: https://youtu.be/U-sFBIIZNPw
Quikrete® Shotcrete MS Repair Mortar: https://youtu.be/sFn4BTAg4q8
Penetron Concrete Waterproofing: https://youtu.be/4HzQmg8RhG4
Pace Decorative System: https://youtu.be/JKV8l4Z-VUo
Icogel by International Coatings: https://youtu.be/ukZadSSs_rA
FiveStar® Underwater Marine Pile Jacket LV Grout: https://youtu.be/CZ_UeC6mg6M
FiveStar® Underwater Grout PG: https://youtu.be/REH7C8BIxIM
Jotun® Marine Deck Coating: https://youtu.be/6DrmLfSPgVU
Gantrex® K3 Epoxy Grout: https://youtu.be/5-kWlH9Cn2E
Induron Mortarchem: https://youtu.be/MoSL-DblcB8