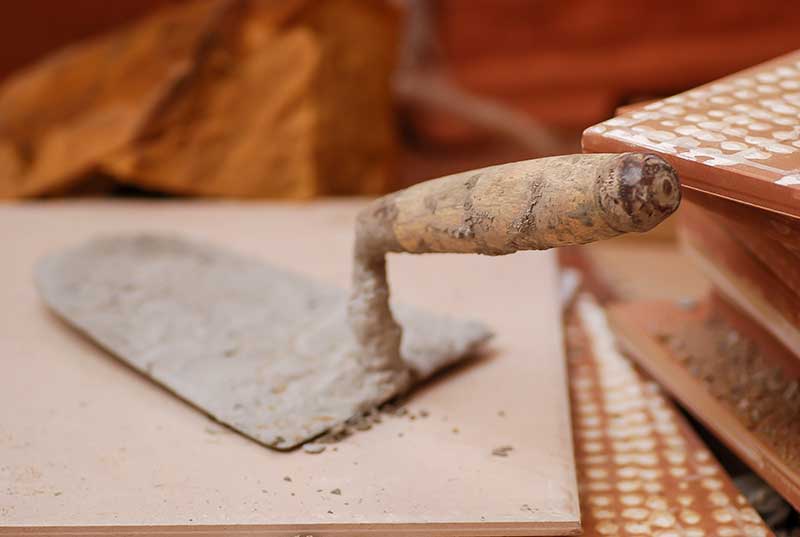 At Quikspray, we offer a variety of options for customers looking to purchase a cement pump for the commercial coatings industry. Our pumps come in different capacities, power levels, and sizes to meet evolving industry needs. This allows us to offer something for everyone.
What You Should Know Before Buying
Concrete pumps transfer concrete in its liquid form between areas. The pumps work with flexible or steel concrete placing hoses that bring the concrete to the exact spot you need it to be.
Before being placed in the cement pump, the liquid concrete is mixed in a mixing truck with a large, rotating drum. The truck pours the appropriate amount of liquid cement into the hopper of the concrete pump. This hopper constantly churns the concrete, preventing it from solidifying.
The pump then uses its suction and mechanical action to remove the liquid concrete from the hopper, transporting it through various valves, tubes, and/or pipes to get to the desired location. Sometimes, there is a need for auxiliary hoses if the liquid concrete has to cover a longer distance.
Line Pumps vs. Boom Pumps
Most of our concrete pumps at Quikspray are line pumps, as our clients use these much more frequently. With a line pump, the hose sits close to ground level. The hoses are more flexible, letting you navigate them around alleys or other obstacles.
Line pumps are more affordable and easier to use than boom bumps. Boom pumps have long, remote-controlled flexible arms. That arm moves through the air, letting boom pumps reach areas that line pumps can't.
A cement line pump is more than capable of meeting many industrial applications. This is especially true thanks to the flexibility of the hoses and the various ways you can configure them. Additionally, many of our concrete pumps are on wheels, letting you fill them and then move closer to the desired location if the cement truck can't maneuver close enough.
Projects Where a Cement Pump Is Useful
Cement or concrete pumps are useful for nearly any project that includes cement. This is true regardless of industry. Some of the most common applications include:
Slab building foundations
Building foundations
Highway overpasses and tunnels
Driveways
Sidewalks
High-rise buildings
Parking structures
Bridges and dams
Foundations for patios or garden sheds
Using a cement pump will make it much easier to complete your project. To start, the pumping action means that the cement pours out of the pump quicker than it would with gravity alone. This lets you complete this part of your project in less time, sticking to your schedule.
Additionally, between the pumps and the hoses that you use, it becomes much easier to bring cement to hard-to-reach areas. Pumps can be highly portable, letting you bring them into areas without a cement truck.
If you are not using a cement truck and instead mixing the cement by hand, a pump offers a more efficient alternative that ensures a smooth mixture.
Quikspray is the best place to buy concrete pumps, thanks to our wide selection, helpful team, and easy ordering process.
We have a wide range of concrete and cement pumps to choose from. Consider the overall size of the pump and its capacity for liquid cement. Then, think about the level of power you need. From there, you can consider other details, such as how easy the pump is to move around. From large pumps to mini-pumps, we have options for nearly every application. Many of the pumps even include various options to let you further customize them to fit your needs.
If you aren't sure which pump you need, our selection would be overwhelming without our helpful team. But we are here to guide you through your pump selection.
If you know exactly which pump you need, we will help you order it. We can also help you confirm that it is the ideal pump for your planned use.
On the other hand, if you just know you need a pump but aren't sure where to start, our team can provide as much assistance as you need. We'll ask you a few questions about how you plan to use the pump and then suggest the right one.
Not only is our team helpful, but we are also easy to reach. You can call or send us an email. Or you can fill out our contact form, and a member of our team will get back to you.
Easy Online Quote Process
With a helpful team and our dedication to creating a smooth customer experience, we make it easy to get an online quote. The process for getting a quote is intuitive.
Just navigate to the page of the pump that you are interested in and fill out the basic specifications you need. Some even have a section for comments. Then, choose "Add to quote." It will appear in your quote basket, making it easy to get a quote. The process is as simple as buying anything online. If you have questions, we're just a phone call or email away.
Quikspray's history dates back to 1954, when Quikstir was founded. Over the years, we've grown and built more powerful mixers, leading to Quikspray being established in 1968. We have always been family-owned and are now in our second and third generation of ownership.
Get a Quote for a Cement Pump and Boost Your Project Efficiency
All that's left to do is decide which cement pump you want and then get a quote. With our selection, there should be at least one pump that fits your requirements. Remember that if you aren't sure which pump to choose, our team will gladly assist you. We encourage you to call or email us if you have questions about our pumps or need assistance setting up your quote request.