Description
The Best Pumpout System Available!
Foreign Objects? ….No Problem!
The Quikpump™ is the application of the peristaltic principle, similar to the human digestive system or squeezing a toothpaste tube. Worldwide acceptance is due to its ease of operation, simplicity, low/no maintenance, and dependability. This pumping system, unlike other systems, will pump anything that accidentally gets thrown into a boat's holding tank.
Offers
No moving parts contact material being pumped
No expensive replacement rotor/stator
No water supply line needed
No valves to fowl or maintain
No seals to repair or replace
Portability or rigid mount
Clear suction hose for visibility
TEFC 1H.P. 110VAC or 220VAC
Cleanest system regarding personnel health
Least overall cost and installation
Options
Coin, token or manually operated
Variable electric or pnuematic power
Clear or colored delivery hoses
Available in 3HP or other power requirements upon request
Commercial
The QuikPump has many commercial uses from cleaning out the holds of Fishing head/charter boats to everyday marina pump out needs. The Quikpump comes with 16″ pneumatic tires for easy mobility as well as four legs for stable operation.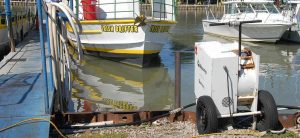 Stand alone unit with no tires

some of our customers choose to take the tires off and hook the pump into a manifold system others choose to use just one line as seen in this picture.

Example of a manifold system

The pump hooks up to a hard line which runs under the docks. Waste is then pumped from these locations to either a septic tank or directly into the city sewer system.

Inlet of a manifold system

A boat would hook directly to this coupling which eliminitaes having to drag a hose to each pump out location.
Marina
The marine QuikPump is manufactured with pneumatic tires and handle for ease of mobility. The Quikpump can be easily moved from boat to boat or be hooked into a manifold system to service many docks without having to move.
10+ years old

This pump maybe a little rusty around the edges but it has been used and abused for 10 + years and is still in excellent operating condition.

Stand alone unit

Stand alone unit that is plumed into a manifold system to service boats around the marina.

Coin operated units are available

Many types of configurations are available from coin operated units to custom colors as well as standard paint or a powder coated QuikPump.
Product Demo