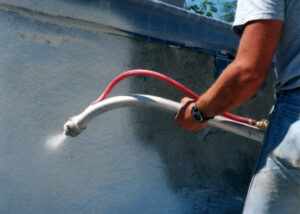 Today, let's dive into the world of concrete spraying equipment and unravel its vital role in achieving efficient and precise concrete application across various projects.
Understanding Concrete Spraying Equipment
Concrete spraying equipment serves as the backbone of modern construction practices, facilitating the efficient application of concrete in diverse settings. From small-scale residential projects to large-scale industrial developments, the proper utilization of this equipment ensures quality and structural integrity in the final build.
The Quikspray Advantage
At Quikspray, we take pride in offering a comprehensive range of concrete spraying equipment designed to meet the ever-evolving needs of construction professionals. Our equipment is crafted to provide reliability, adaptability, and precision, ensuring the successful completion of construction projects of all sizes.
Reliability:
Quikspray's equipment is built to withstand the demanding conditions of construction sites. Whether it's tunneling, mining, or general construction, our machinery is engineered to deliver consistent and reliable performance.
Adaptability:
We understand that every project has unique material requirements. Our range of equipment is versatile and adaptable, capable of handling various concrete mixtures, from shotcrete to high-performance concrete.
Precision:
Precision in concrete application is crucial for structural strength. Quikspray's machinery is engineered to deliver accurate spraying, optimizing material usage and minimizing waste, resulting in superior project quality.
Choosing Quikspray for Your Construction Needs
Quikspray stands out as the ultimate choice for your concrete spraying equipment needs, and here's why:
Quality Assurance:
Every piece of equipment undergoes stringent quality checks to ensure it meets and surpasses industry standards. Our commitment to quality guarantees machinery that consistently delivers top-tier performance.
Expert Support:
Beyond providing equipment, Quikspray offers unparalleled customer support. Our team of experts is dedicated to addressing your queries, providing technical guidance, and ensuring you get the most out of our products.
Tailored Solutions:
Our range of concrete spraying equipment is designed to cater to diverse project needs. Whether you're working on a small-scale residential project or a large-scale industrial venture, our equipment is built to meet your requirements.
Applications Across Various Industries
Quikspray's concrete spraying equipment finds applications in numerous industries and projects, including:
Tunneling and mining projects, where precise concrete application is critical for structural integrity.

Infrastructure development, such as bridges and building construction, ensuring durable and quality structures.

Renovation and repair projects, providing precision in revamping existing concrete structures.

Specialized applications like refractory lining, pool construction, and unique architectural features, offering tailored solutions for specific project requirements.
Empower Your Construction Projects with Quikspray
At Quikspray, we aim to be more than just a supplier; we're your partner in success. Our commitment to quality, dedicated customer support, and an extensive range of concrete spraying equipment ensure that your projects are built to last.
Experience the Quikspray advantage by exploring our comprehensive range of concrete spraying equipment or reaching out for personalized consultations and quotes. Elevate your construction endeavors with the best-in-class concrete spraying equipment—choose Quikspray.