Commercial Fireproofing Pump
Modern buildings need to be protected against fire hazards, whether those come from internal fire threats or external hazards, like wildfires. But applying fireproofing materials like concrete or stucco can take a lot of time and effort, particularly when applying those materials to hard-to-reach places high above the ground.
Commercial fireproofing pumps offer convenient, efficient solutions for workers and worksite managers. In fact, the right commercial fireproofing pump can make any fireproofing job much easier and lead to excellent results.
The Purpose of a Commercial Fireproofing Pump
The purpose of any commercial fireproofing pump is to quickly and easily apply fireproofing materials, like stucco or concrete, to walls, roofs, or floors. Think of them as material applicators, which can be directed using a hose or hose-like tool.
With a reliable commercial fireproofing pump, worksite employees can quickly apply fireproofing materials to walls and roofs without having to do so by hand. There are lots of benefits to this, including:
Applying fireproofing materials much more quickly, especially if there is a lot of surface area to cover
Applying fireproofing materials more evenly. Using a fireproofing pump can help apply the material across the service quickly without making globs or lumps that congregate in one area or another
Applying fireproofing materials in layers without compromising quality. Many commercial fireproofing pumps include built-in mixers, like the QuikSpray Carrousel, to help you mix the perfect fireproofing material in no time
QuikSpray's Carrousel Fireproofing Pump
This heavy-duty, powerful, and versatile fireproofing pump is ready to go right out of the box and features a top-mounted air compressor, which allows for easy access and operation of the spray gun. The Carrousel is the perfect choice for both production and patching work, especially if you need to apply fireproofing materials to hard-to-reach places.
Despite its power, the QuikSpray Carrousel is small enough to fit through a three-foot door opening. Its electric drive is robust and powerful, offering constant torque speeds of 110 or 220 vac depending on your preferences.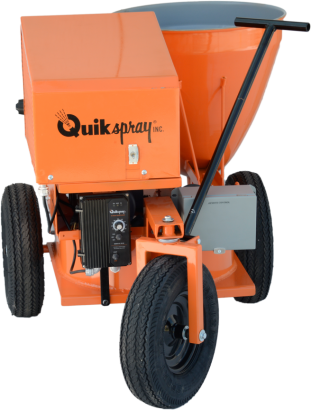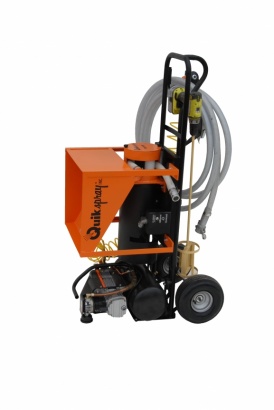 If you need something more maneuverable for lighter duty, the QuikSpray Mini Pump is a good choice. It's available in three models: the manual model, the electric on a table model, and the electric on a dolly cart model.
In any case, the Mini Pump features a standard 110VAC and is capable of applying 2+ gallons of fireproofing materials per minute. It's a complete system, capable of applying plaster, acoustics, and fireproofing materials.
This lightweight and cost-effective application solution features a slim and compact design: perfect for getting to tight places. It's also very low maintenance and comes with a variety of easy-to-use accessories, like a remote control, material hose, and fixed spray gun.
Purchase Commercial Fireproofing Pumps From Quikspray
When it comes to fireproofing pumps, you won't beat the selection at QuikSpray. Our commercial fireproofing pumps are the perfect options for worksites across the country, whether you need heavy-duty work or mobile, nimble fireproofing assistance. Check out our pump selection today!