Best High Volume Water Pump For The Money
When it comes to choosing the best high volume water pump for the money, the
QuikSpray Dike Pump
is the best option. It is a professional grade pump, which means it is customizable. Our Dike Pump is available in 8 or 12 inch sizes. The larger the size, the more water volume removed from a field or construction site in a shorter period of time. 
High volume water pumps like the QuikSpray Dike Pump can pump water up to rates of 1,000 gallons per minute. The features of our Dike pump allow you to complete a dewatering job with ease.
What Are the Processes for Dewatering?
Dewatering involves removing water, sludge, or thicker liquid mixtures from an area.
There are four main types of dewatering methods:
The type of pump required for the dewatering project will depend on the mixture as well as the method in use. Smaller pumps are best for simple home projects. Agricultural or construction settings with high volume
typically
require
a commercial pump.
The QuikSpray Dike Pump removes high volume water, sludge, or thicker substances.
It works through connection to a piece of machinery, often a tractor, using a standard horsepower (HP) driven power take-off (PTO) shaft
. The pump can also use a constant velocity (CV) shaft. Water or sludge gets removed from the location through a hose. The removal hose comes in a variety of different lengths and diameters.
When Should You Use a High Volume Water Pump?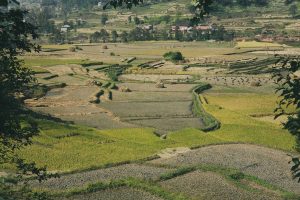 The QuikSpray Dike Pump dewatering system is the most ideal pump to use as a high volume water pump.
It is excellent for mass dewatering projects for marshes, ponds, fields, and other agricultural settings
. 
Because the QuikSpray Dike Pump is customizable, it can tackle any dewatering job of any size. The parts of the Dike pump consist of sections that are straight or humpback. This allows for the following configurations:
One strait section and one humpback section

One humpback section and one straight section
These five possible configurations make the QuikSpray Dike pump modular and portable. The above five configurations can
be used
for
multiple
tasks. The QuikSpray Dike pump comes with 16 inch road quality wheels and tires as well as a hitch for road travel. 
How Do You Choose A Dewatering Pump?
The QuikSpray Dike pump is the best high volume water pump for the money. It is the most durable and affordable high volume water pump on the market today. It also boasts an extensive feature list:
Balanced rotor and stainless steel drive shaft

Epider coupling to reduce shaft vibration

Multidirectional discharge elbow

A frame hitch with tie downs and grate

Skids for under body pump protection
Additional
equipment available for
purchase
with your new QuikSpray Dike pump includes:
Multiple

grades of discharge hoses

Water control structures of various sizes

Two types of shafts (HP and CV) depending on the machinery used

Customized discharge elbows depending on the machinery used
Still not sure if the QuikSpray Dike pump is the right high volume water pump to meet your needs? Call us at (419) 732-2611 or contact us online. Our team will be happy to answer
all of
your questions about dewatering systems.