Yes, it's possible to use a pump with epoxy. Using a pump with epoxy would make it much easier to prepare the material for use and ensure easier application. Add in a mixer, and you will find mixing the epoxy much easier than it would be if you tried to do it by hand.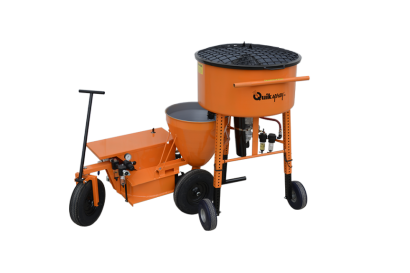 All you have to do is confirm that your chosen pump can work with epoxy since not all pumps are designed to handle it. The following 
pumps from Quikspray work with epoxy:
Carrousel Pump
2-Inch Carrousel Pump
200 Grout Plant
U-Blend Mixer
5-Gallon Bucket Mixer
Quikbatch Mixer
Production Post Mixer
Any of the above pumps are designed to handle epoxy efficiently and are reliable for a wide variety of applications.
How to Use a Pump for Epoxy
Using a pump for epoxy is just like using a pump for any other type of material. Follow the instructions on the specific pump and reach out to the pump's manufacturer if you have questions. In addition to reading the instructions for the pump, be sure to read the instructions for the type of epoxy used as well. This will let you confirm that you mixed it properly.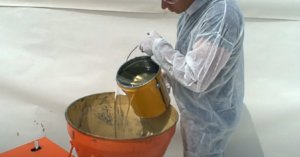 A Quikspray pump will maximize your efficiency when using epoxy, but you can also find smaller containers of epoxy with built-in hand pumps. In many cases, these hand pumps are attachments that you can fit in the bottlecap's place. These pumps often need to be primed before use. To do so, do a few pumping motions before you start actually using the epoxy.
One convenient feature of these hand pumps is that many can provide an accurately measured amount of epoxy. This feature comes in handy for mixing appropriate amounts of resin and hardener.
Some of these hand pumps may require a bit of cutting to get the tube to the appropriate size. The instructions that come with the bottle and pump will tell you whether this is the case. You may also need to fit the pump with a wider extension tube that can more easily accommodate epoxy.
Need More Help with Epoxy Pumps? Ask The Professionals
Now that you know that you can use pumps with epoxy, all that's left to do is choose which of our pumps is the best fit for your requirements. If you need help choosing the pump or figuring out how to use it, Quikspray's team is happy to help.
Here at Quikspray, our team is always available to answer questions about its pumps and give you tips. A quick look at the various pumps we have available or a chat with an expert from our team can let you confirm if your chosen pump is compatible with epoxy.